maría gonzález and juanjo lópez de la cruz of sol89 have built 'house 10 x10', a family home in seville, spain, complete with a ceiling of exposed concrete beams. located on a square site on the edge of a low-density neighbourhood, the brick-clad volume incorporates all small active spaces, such as bathrooms, storage, and laundry rooms, to the perimeter, freeing the center of the square for the main living spaces. a quarter of the interior square is reserved for the patio, to which the living room-kitchen and the master bedroom are turned.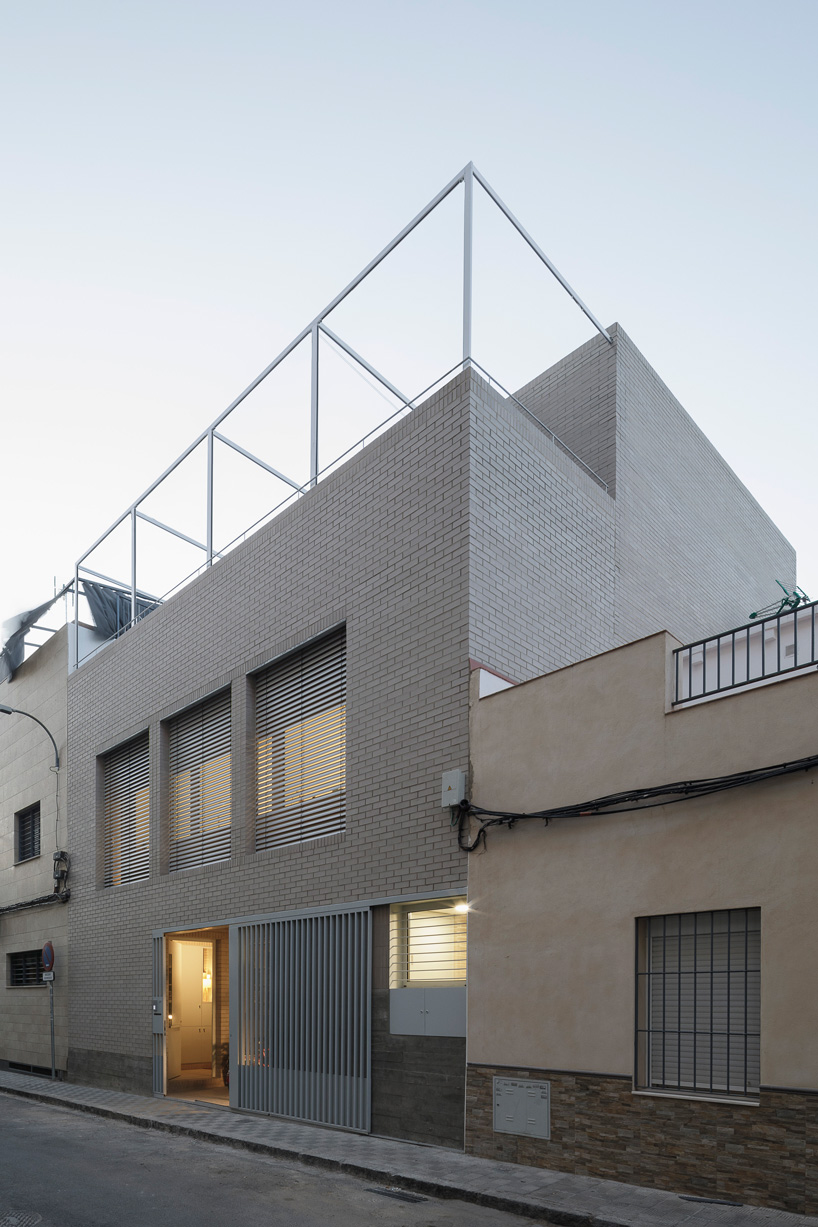 all images by fernando alda
sol89 has developed the three-story house as a double brick wall box, which thickens the limits of the site and houses four concrete pillars. 'the double façade makes it possible to provide the precise scale to the openings of the domestic interior and the urban exterior, each face responding to the desired functional or figurative requirements,' notes the seville-based architecture studio. occupying a quarter of the interior square, the patio space provides the living room and master bedroom with ample daylight, blurring the boundaries between inside and outside.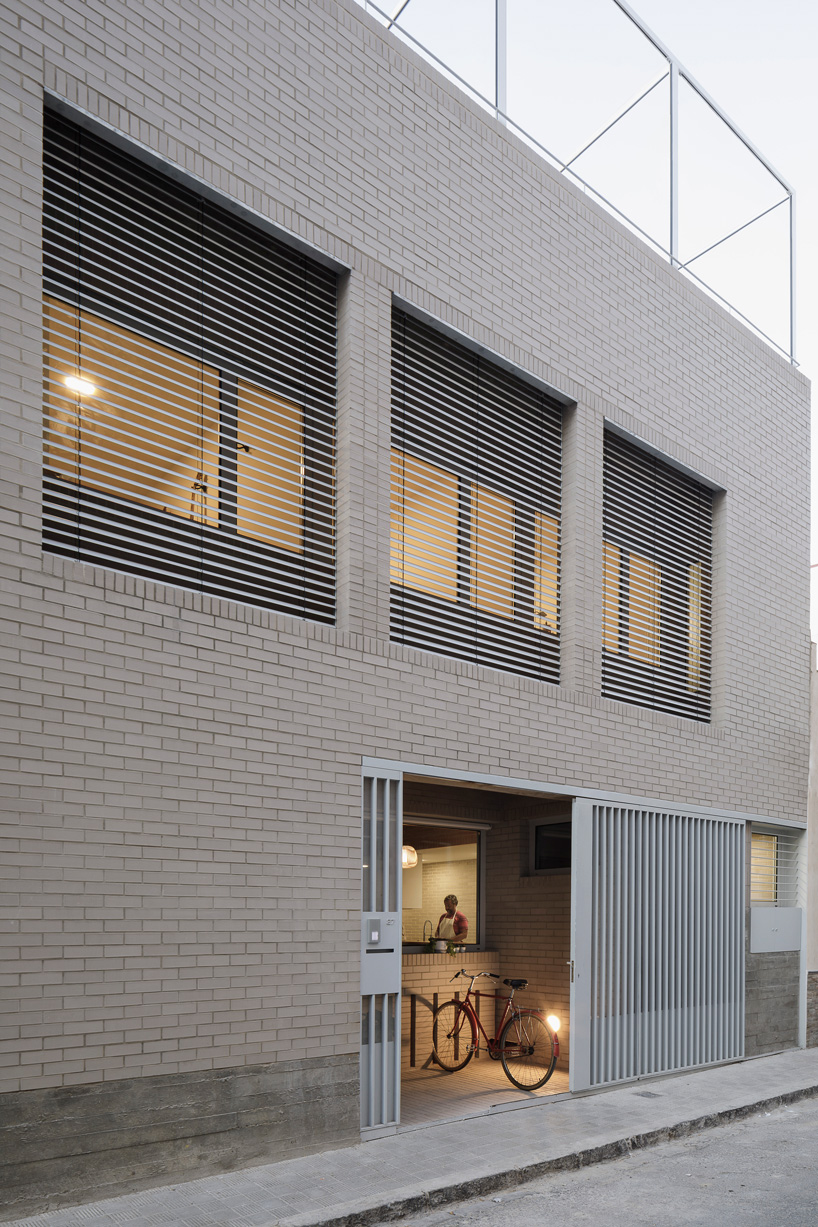 the other three bedrooms of the house are protected from the southern sunlight and the immediacy of the street by the loggia, which is made up of thick skin. the roof terrace, conceived as a place to celebrate and meet with friends and family, can be accessed via a one-section staircase inserted between the two main boxes, allowing a certain independence from the rest of the house. those two boxes, which make up the thick skin of the building, are clad in a greyish brick that alternates two formats.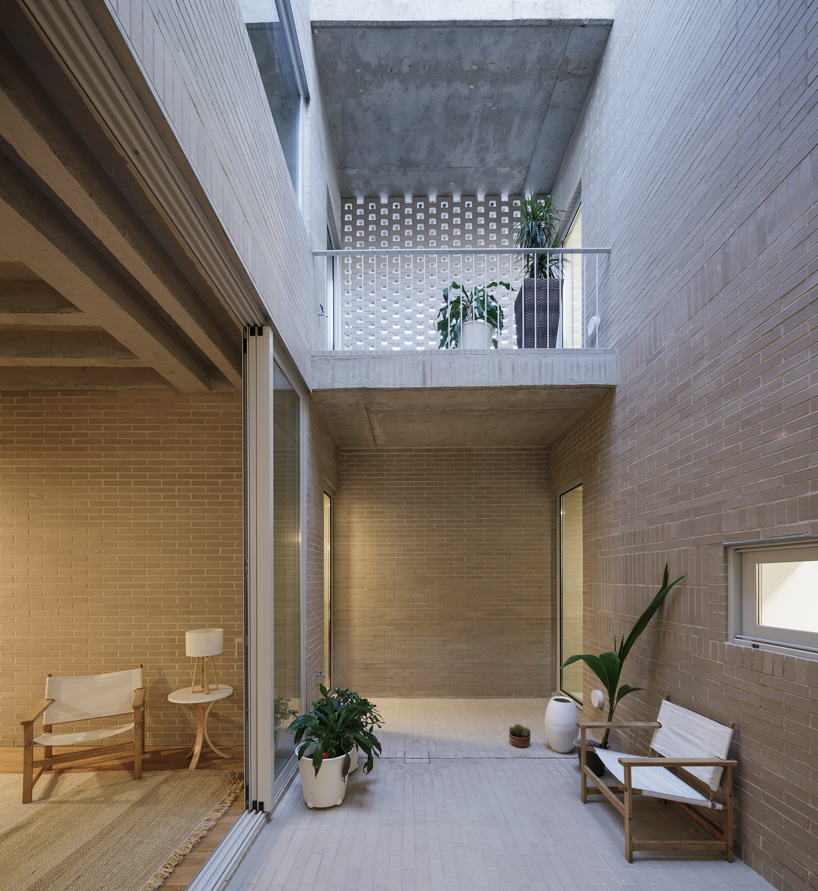 'the house assumes the type of central plan surrounded by smaller spaces as a result of the dimensions of the site and the urban conditions,' explain maría gonzález and juanjo lópez de la cruz of sol89. 'the concentric geometry that this spatial arrangement entails is relied to establish fluid and dense relationships between the different spaces of the house, between those that we inhabit slowly and those that allow the evolution of daily life.'