Three horses sold as racing/stallion prospects late in the eighth session of the Keeneland November Breeding Stock Sale Nov. 16 will be moving on next year to careers as stallions.
Melanie Peterson and Brian McClay, owners of Hell On Heels Racing Stable, bought grade 3 winner and track record holder King Zachary for $30,000 out of Lane's End's consignment. The 5-year-old son of Curlin  had been racing for Tom Conway, who had acquired the colt for $550,000 at the 2016 Keeneland September Yearling Sale.
As a racehorse, King Zachary won or placed seven times out of 13 starts, getting victories in the Matt Winn Stakes (G3) at Churchill Downs and in the Birdstone Stakes at Saratoga Race Course, where he broke a 91-year-old track record for 1 3/4 miles in 2:52.97. Reigh Count had owned the previous mark of 2:55 since Sept. 1, 1928. King Zachary retired with $366,120 in earnings.
"We're ecstatic over buying him. I am very interested in introducing a strong stamina horse to Texas, which has no shortage of speedy mares. It should be a good marriage," said McClay, who lives in Vancouver, Canada. "Curlin is a super sire and versatile, but I am also a proponent of Bruce Lowe family numbers and (King Zachary) is 22b, the family of Street Sense  and Danehill Dancer."
While in Kentucky, Peterson also acquired grade 2-placed winner Tiz Mischief privately from owner Frank Jones Jr. Trainer Dale Romans bought the son of Into Mischief  for $55,000 at the Keeneland September sale and conditioned him for Jones. The horse compiled a 2-3-1 record from 17 starts, with his best performances coming in runner-up efforts in the 2017 Kentucky Jockey Club Stakes (G2) and the 2018 Matt Winn. He also finished third in the Holy Bull Stakes (G2) at Gulfstream Park. On Now 5, Tiz Mischief retired with $217,342 in earnings.
"We now have the only Curlin son and the only son of Into Mischief standing in Texas," Peterson said. "Texas added a lot of purse money starting last year, so it's attracting trainers from other areas that are bringing in really good horses. It is our hope that we can help Texas breeders up their game and breed better quality horses."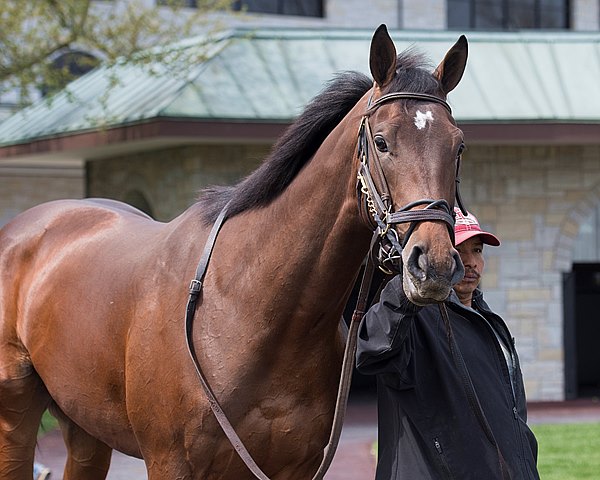 Tiz Mischief schools at Keeneland
Peterson started Hell On Heels in 2017 with a group of friends that loved going to races together. She later took on longtime friend McClay as a partner and they expanded into breeding, now owning about 20 broodmares between them. They operate out of a 21-acre farm near Decatur, Texas, that they've outgrown and are looking to move to a ranch with more than 300 acres.
No stud fees have been determined yet for King Zachary or Tiz Mischief, but Peterson said they are likely to stand for a private fee with special consideration, even complimentary seasons, offered for approved mares.
Also sold Nov. 16 at Keeneland was Malahini, a 3-year-old son of Curlin that Puerto Rico's Hacienda Los Nietos bought for $16,000 out of James Keogh's Grovendale consignment. The farm also stands Vaporetto, Harlan's Pure, Donegal Moon, Conspiracy, Albert the Gold, and Get Rich Quick. A fee for Malahini has not been decided, yet.
Bred in Kentucky by Stonestreet Thoroughbred Holdings, Malahini is out of out of grade 1-placed, four-time graded stakes winner Kauai Katie. The colt was highly regarded as a yearling, selling for $825,000 to e Five Racing. Stonestreet and eFive Racing campaigned the colt together. He was not successful out of four starts at 3, which prompted him to be offered at Keeneland.
"We are very happy to have a stallion with Malahini's pedigree in Puerto Rico. Each year Hacienda Los Nietos makes several investments to grow our industry into one of the best in the Caribbean," said farm president Javier Velasco.
Iowa breeder Maynard Thompson also picked up a stallion prospect in Prince of War, an unplaced son of Cairo Prince , who he bought for $12,000 from Bluewater Sales' consignment. Prince of War also was an attractive yearling, selling for $450,000 to Martin Schwartz at the Keeneland September sale.
Though unplaced, Thompson sees a lot of potential in the 3-year-old. First, he likes the direction Cairo Prince is going as a sire, currently the third-leading third-crop sire by progeny earnings and tied with top third-crop sire Goldencents  by number of 2020 black-type performers with 13.
"I liked Cairo Prince and his bottom side shows a lot, too. I really like Lawyer Ron and Langfuhr," said Thompson, referring to Prince of War's broodmare sire and Lawyer Ron's sire, respectively.
Thompson said it is not a 100% done deal that Prince of War will enter stud next year, since he's heard from a couple of trainers who believe the colt may still have something to prove at the track.
"I bought him with the intent of making him a stallion," said Thompson. "He'll still be a stallion but for now I'm not sure which direction he'll go."
The future is also unclear, at least publicly, for racing/stallion prospects Gozilla, a grade 1-placed son of Flatter ; and, Have At It, a grade 2-winning son of Kitten's Joy .
Gozilla, who was sold as part of a liquidation of Zayat Stables' assets connected with bankruptcy proceedings, was sold for $60,000 to an entity represented by Bluewater as agent.
Have At It, a homebred for Robert Evans, was bought for $15,000 by a group identified only as Bloodstock Services. The 5-year-old horse, sold through Lane's End's consignment, has compiled a 3-4-1 record from 16 starts and earned $495,633 so far.