Following a Nov. 17 arraignment and status conference covering a time table for defense motions, the chances that a federal trial charging former trainers Jason Servis and Jorge Navarro and 12 other defendants with a race doping scheme would begin in the first half of 2021 evaporated.
During Tuesday's conference via telephone before United States district judge Mary Kay Vykoscil, all of the 14 defendants in a superseding indictment issued Nov. 5 entered not guilty pleas, necessitating a trial. Each of them were named in an original March 9 indictment of 27 individuals for their alleged roles in a "widespread, corrupt scheme by racehorse trainers, veterinarians, PED (performance enhancing drugs) distributors, and others to manufacture, distribute, and receive adulterated and misbranded PEDs and to secretly administer those PEDs to racehorses under scheme participants' control."
Following the arraignments, Vykoscil, after discussions with assistant United States attorney Andrew Adams representing the Southern District of New York and defense attorneys, ruled there will be a phased period for pre-trial motions due to what was often described as a "voluminous" amount of evidence that has and will be turned over by the government to defense attorneys.
Vyskocil set a Feb. 5 deadline for the filing of motions dealing strictly with requests to dismiss the case in its entirety or some of the five counts in the indictment. She then gave the prosecution until March 5 to respond to those motions and the defense until March 26 to offer its reply.
She then scheduled a May 14 status conference in advance of a proposed May 24 deadline for other motions to determine if additional time will be needed for motions to be filed. Given the four weeks for the government's response and three weeks for the defense to respond, that would carry hearings on the pretrial motions into July at the earliest.
Vyskocil also raised the possibility of an additional hearing for Daubert motions, which would involve claims to dismiss the testimony of expert witnesses and could extend pre-trial hearings even longer.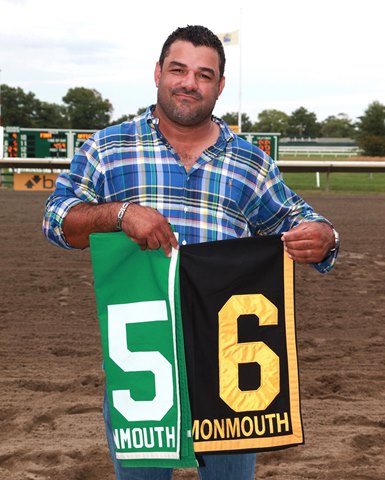 Jorge Navarro at Monmouth Park
An objection raised by attorney Andrew Feldman representing defendant Seth Fishman over the prosecution's request to suspend the trial clock for a speedy trial until the May 14 conference was overruled by Vyskocil. She also denied a request to establish a deadline for the submission of evidence or discovery in the case.
Much of the conference centered on the vast amount of evidence being produced by the government and the defense's ability to sort through it. 
"The volume of discovery has been incredible," said attorney Robert Baum, representing defendant Alexander Chan. "I've been a federal defender for 25 years in the Southern District and this is the greatest volume of discovery I've seen."
Baum said defense attorneys have yet to receive evidence from Sept. 28 and Sept. 30 discovery productions, which is expected to contain eight terabytes of data and will increase the volume of evidence by 43 times.
He said that prior to that batch of evidence, there had already been 33,571 audio recordings, 50,800 pages of line sheets, and 107,771 associated files turned over to the defense. 
"This is an incredible, time-consuming task," Baum said about reviewing the evidence.
Adams said the investigation was still on-going and the collection of more evidence is likely. He pointed out that the government is in possession of nine electronic devices that had either corrupted files or passwords that could not be cracked and they could possibly become evidence if those issues are resolved.
While not saying anything was imminent, Adams did not rule out another superseding indictment or more individuals being charged in the next four to five months.
"We are under no obligation to answer that question," Adams said.
In describing the differences between the original and superseding indictments, Adams listed the addition of wire and mail fraud charges against Servis, Kristian Rhein, and Chan, which include financial forfeiture provisions.
"It is focused on what is referred to in the superseding indictment as a false billing scheme relating to certain drugs being administered by Dr. Rhein's veterinary practice, including to horses under the care and training of Mr. Servis," Adams said.
When asked by the judge who was defrauded in the wire and mail fraud by the three defendants, Adams said it was "explicit" the owners of the racehorses under the care of Servis and the two veterinarians are among  the intended victims.
He added that the superseding indictment also contained additional exposure for Seth Fishman (the defendants also include Jordan Fishman) through an allegation he continued to engage in illegal activities after he was arrested and released on bail following an October 2019 indictment.
Adams went on to say any drug described by the defendants as a PED would be included as adulterated and misbranded even if it did not prove to be a performance enhancer.
During the conference, Feldman raised a question about the government receiving lab reports from the Hong Kong Jockey Club and law enforcement and private investigators communicating with officials and analysts from that lab. He asked if that process has been completed and if all of that communication has or will be turned over to the defense.
Adams said any information received from the Hong Kong Jockey Club or the lab had been turned over as evidence.
Of the 14 defendants, all of whom are free on bail, only Servis, Seth Fishman, Rick Dane Jr., and Rebecca Linke participated in the call.
The rest of the defendants in the case, which alleges illegal activity dating back to at least 2018, are Erica Garcia, Marcos Zulueta, Michael Tannuzzo, Lisa Giannelli, Jordan Fishman, Christopher Oakes, and Michael Kegley Jr.
Most of the charges in the case carry a maximum penalty of five years in prison, though the superseding charges against Servis, Rhein, and Chan contain a much harsher sentencing guideline of up to 20 years.