with a deep understanding of the history of the brand – just check out their 964 DLS custom – singer vehicle design creates a contemporary interpretation of a porsche 911 safari rally car. the modern off-roader pays homage to their successful racers in the '60s with a version fit to complete in the dakar or baja 1000.
see singer's 1990 porsche 911 964 safari design in action in the video above.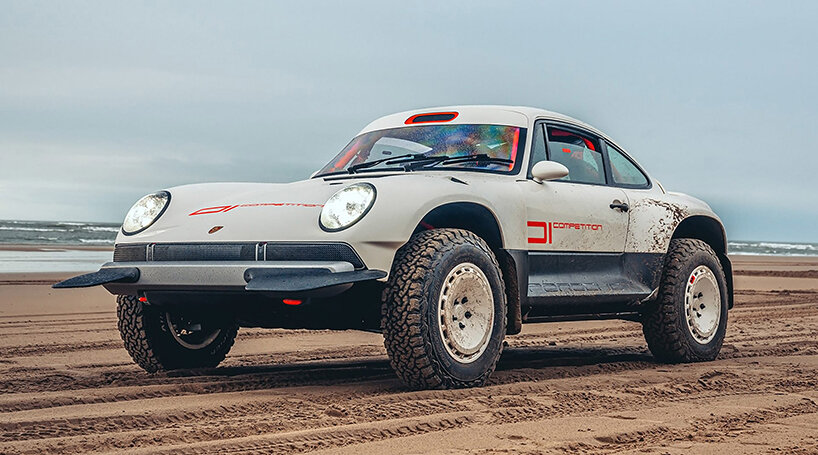 all images courtesy of singer vehicle design
requested by a long-time client, LA-based singer vehicle design were asked to transform a 1990 porsche 911 964 safari into an off-roader that demonstrates all-terrain exploration capabilities. they enlisted the expert advice of richard tuthill of oxfordshire, UK-based tuthill porsche, whose speciality of preparing race-ready porsches for both off-road and race track have recently won events like the east african safari classic and FIA WRC R-GT championship.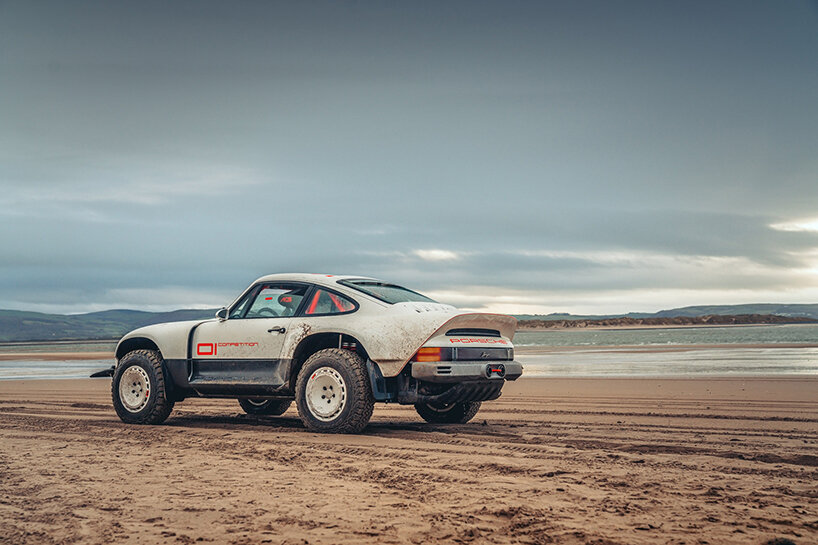 to reduce weight, the design adorns a carbon-fiber-paneled body. an FIA-specification roll cage helps strengthen the monocoque further. the porsche was then lifted high above ground with a long-travel suspension with twin five-way adjustable dampers at each wheel. inside, FIA-certified bespoke competition seats have been added along with a dual spare-wheel carrying system in the front trunk and rear storage area, a GPS race navigation system, and a rehydration system for driver and navigator.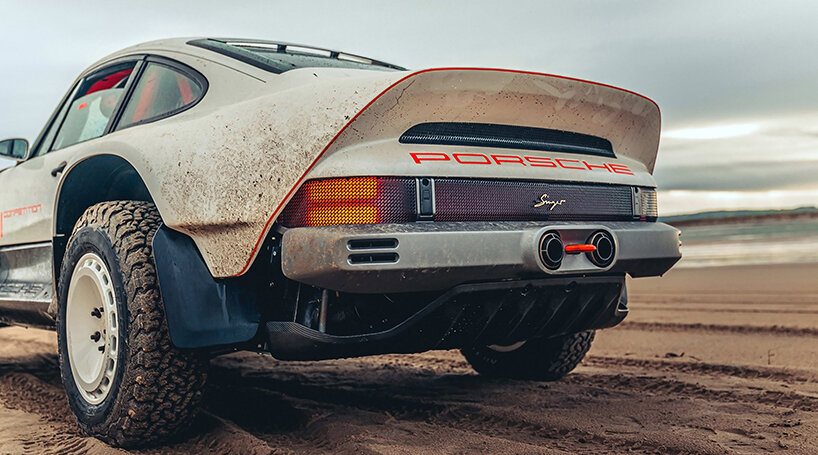 beneath its carbon-fiber body, the singer porsche 911 safari rally car is powered by a twin-turbo 3.6-L air-cooled flat-six that offers 450 hp and 569 Nm of torque. the power is delivered to all four wheels through a sequential five-speed transmission and front, center and rear mechanical limited-slip differentials to push through sand, snow and mud. monobloc disc brakes complete the design alongside BFGoodrich all-terrain tire-wrapped aluminum alloy wheels.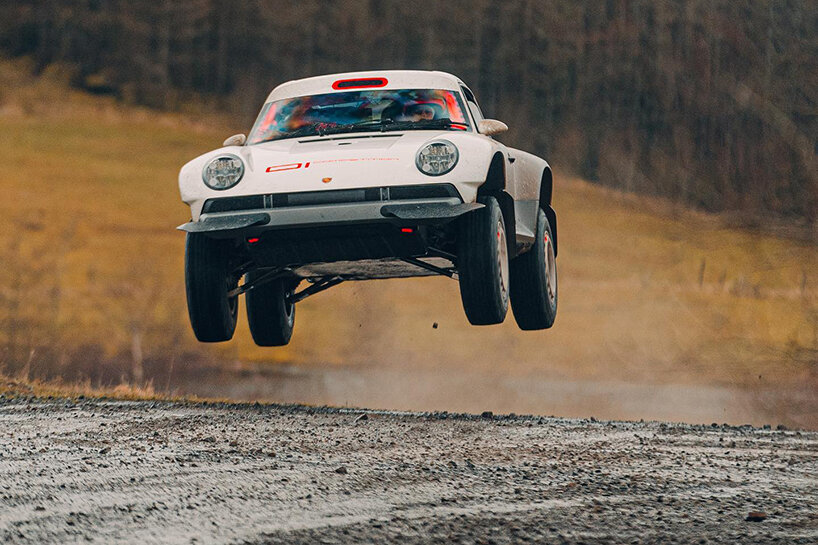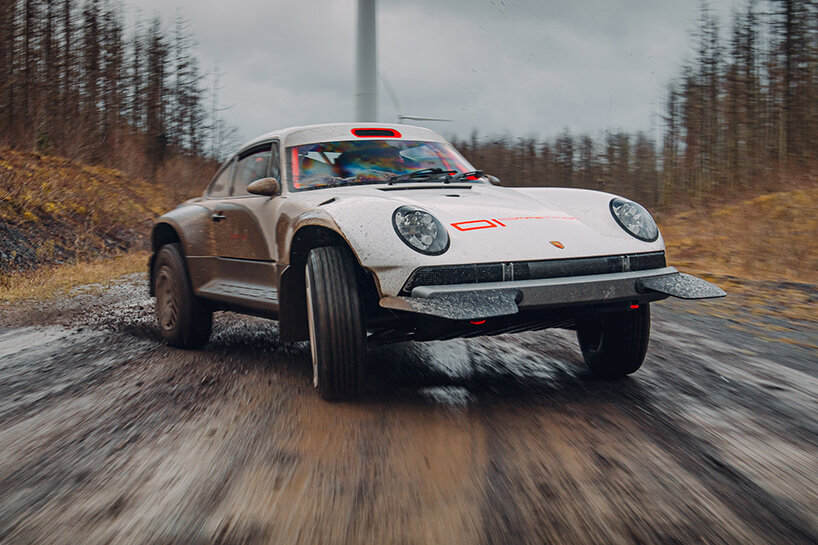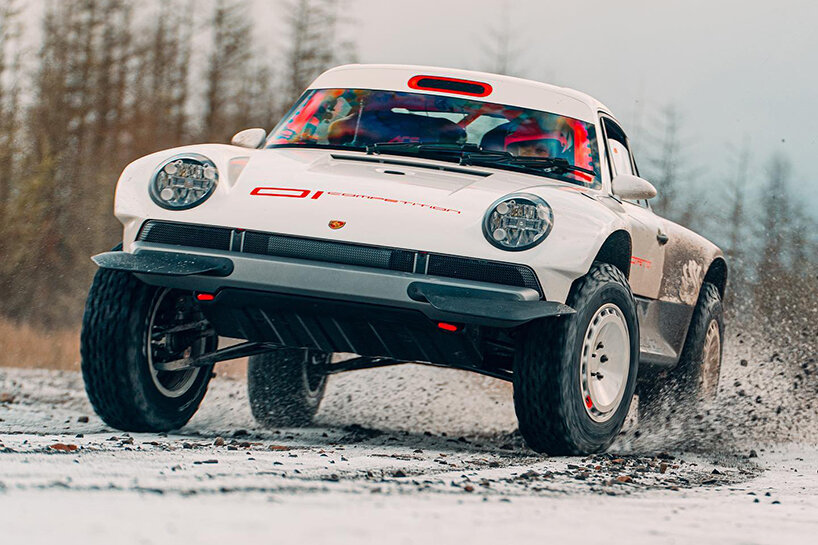 project info:
custom workshop: singer vehicle design
original model: 1990 porsche 911 964 safari
collaborators: tuthill porsche