back in 2017, BMW debuted a zero-emission mobility concept called concept link. three years later, the german automotive giant presents the evolution of this concept titled the BMW motorrad definition CE 04 which will go into production in the following months. aiming to create a link between the analogue and digital worlds we now inhabit, this electric scooter is not only a means of transport but also a means of communication for the urban commuter.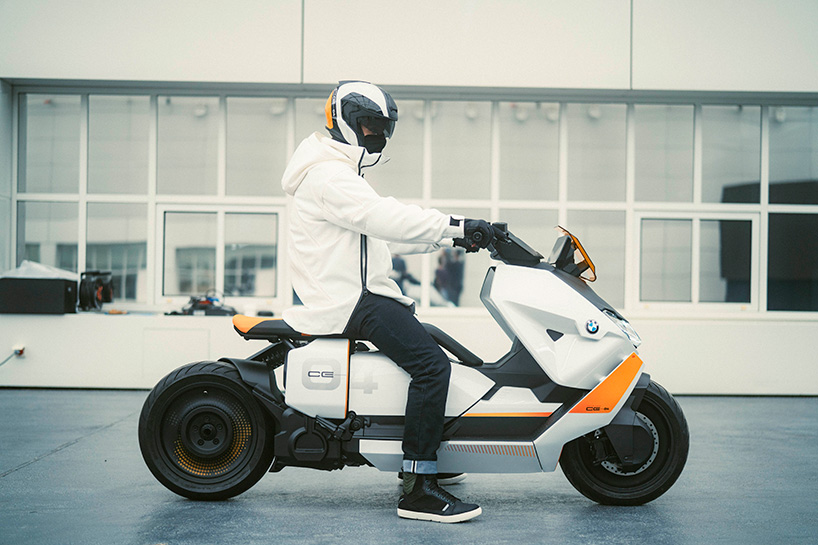 images by BMW group
with the BMW motorrad definition CE 04, BMW showcases how to bring a concept to reality. the electrically-powered motorcycle has been developed and adapted to meet the customers daily needs and requirements. design-wise, the bike breaks from traditional scooter looks, featuring an elongated, low-vehicle body with a diagonally rising front end that creates a silhouette that is modern and clear. the generous surface design with sharply designed edges blends perfectly into modern, urban surroundings. the flat battery in the under body provides new freedoms, such as the new storage solution, which is illuminated and can be folded open from the side while providing a favorable center of gravity.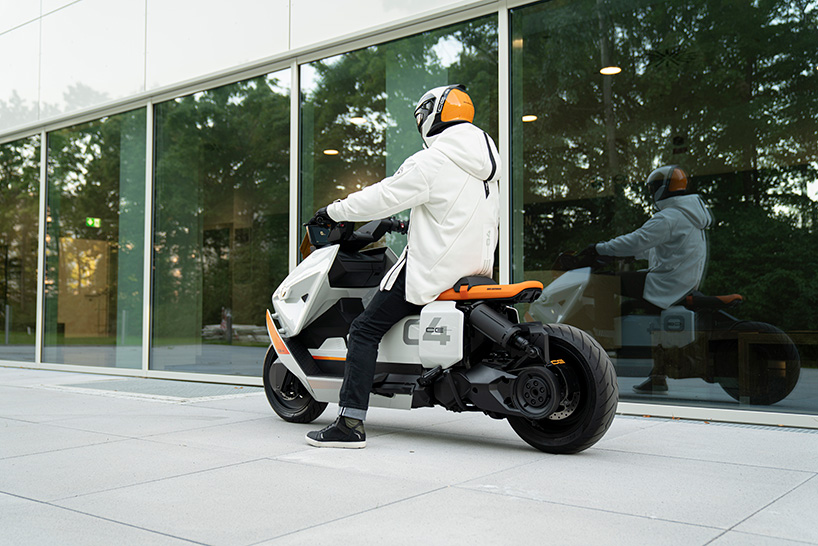 'we have managed to transfer many innovative elements and details of the concept into the series,' comments alexander buckan, head of vehicle design BMW motorrad. 'the technical realities of electric drive – such as the flat energy packs in the underfloor and the compact drive train – allow us to create a highly distinctive design which defines a new, urban aesthetic and which differentiates itself clearly from conventional styling. a design that follows the basic needs for simple functionality, clear aesthetics and the digital reality today's users live in. the new architecture has led to a visual revolution and has produced many new design themes. maybe it will polarize, but it will definitely stand out.'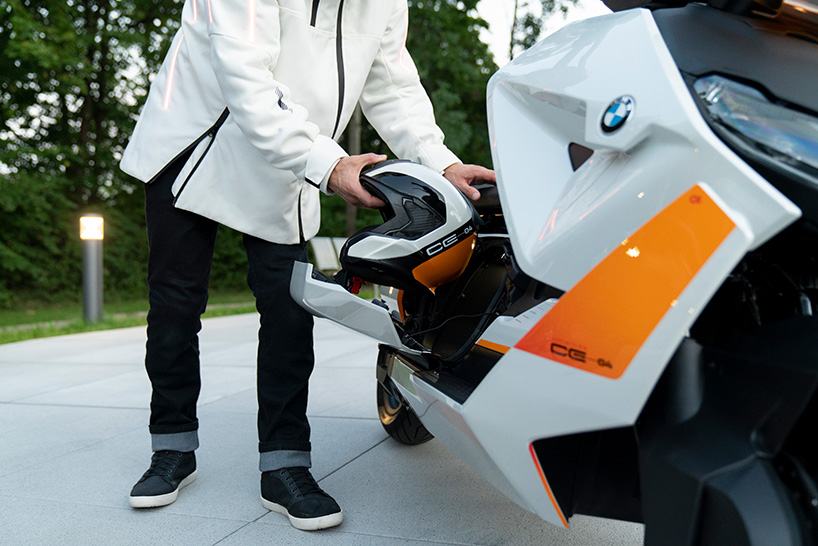 by using just three colors — mineral white metallic, black matt and a striking orange — the BMW motorrad definition CE 04 showcases clear lines, generous surfaces and great proportions. the core of the vehicle, where the technical heart is located, stretches from the front to the rear, in addition to the tires and front lights, also integrating the drive unit and the suspension elements. the side panels don't cover the vehicle completely, allowing views of the drive unit, cooling ribs, single-sided swing arm, spring strut and tooth belt.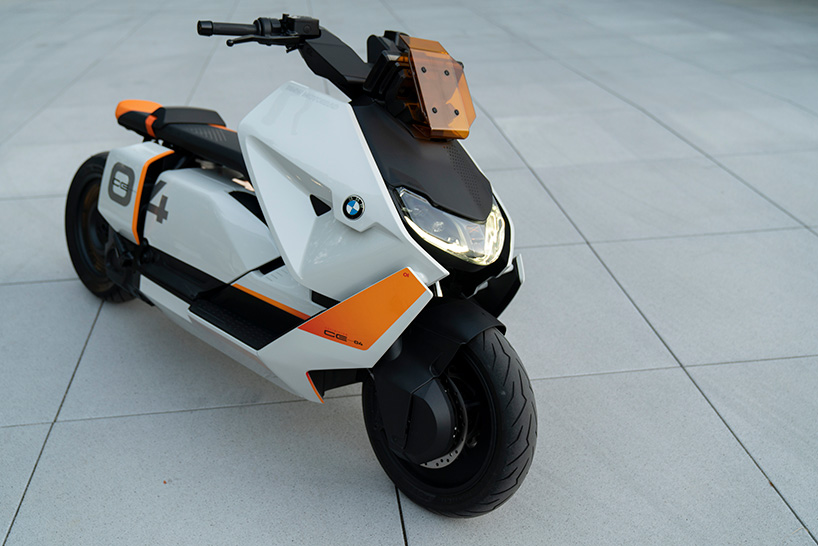 with this motorrad, BMW wants to show the great potential it sees in the interaction between vehicle and rider equipment in terms of safety, comfort and emotion experience. to create the perfect symbiosis, the driver is connected to his environment through their smartphone view the BMW motorrad definition CE 04 — the 10.25 inch display is the largest in the scooter segment to date and acts as an interface between the digital and analogue worlds of the rider.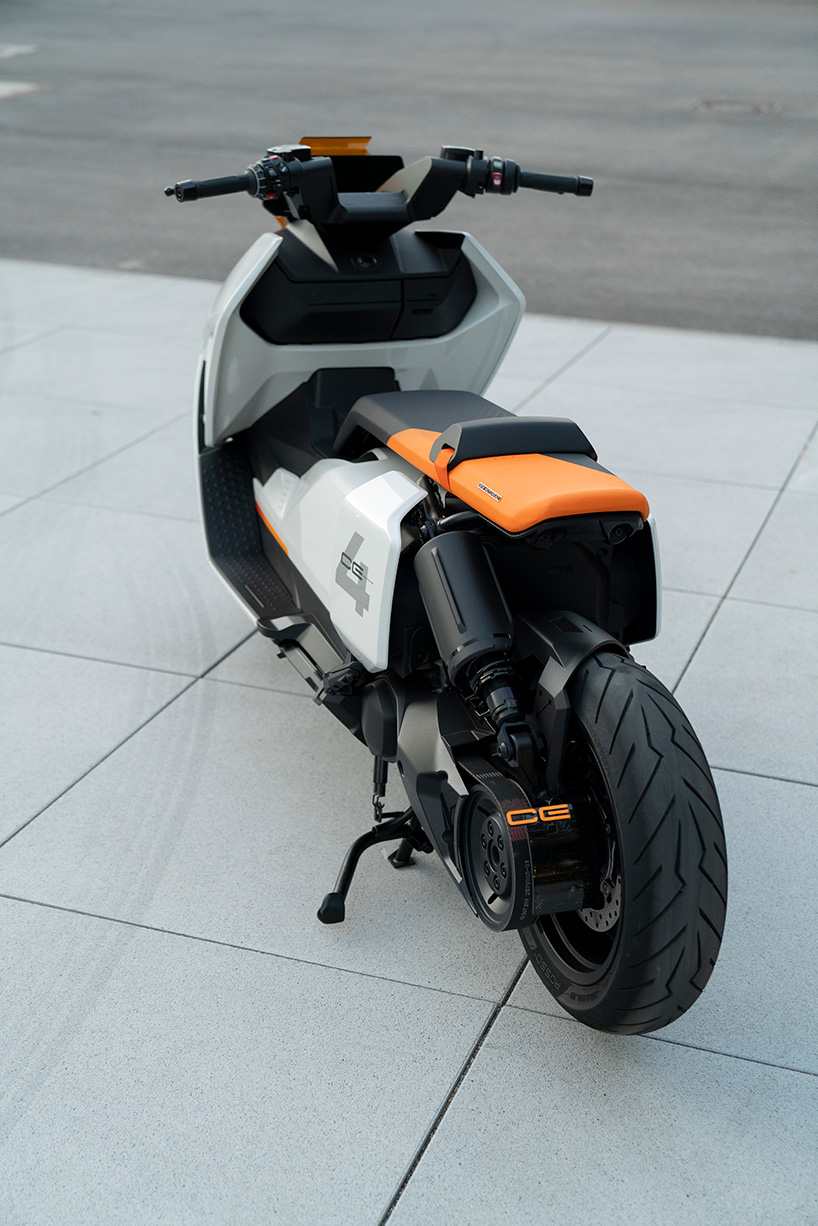 'electric mobility is a central drive system for the BMW group and we are consistently relying on this technology in our sustainability strategy,' explains edgar heinrich, head of design at BMW motorrad. 'electric drives are also a current topic for BMW motorrad, especially for the urban environment. since 2013, we have been a pioneer in this area with the BMW C evolution scooter. the BMW motorrad definition CE 04 is the logical continuation of the electromobility strategy for urban conurbations and provides a concrete preview of what a contemporary production vehicle could look like, with which we will take two-wheel electric mobility in metropolitan areas to a new level, both technically and visually.'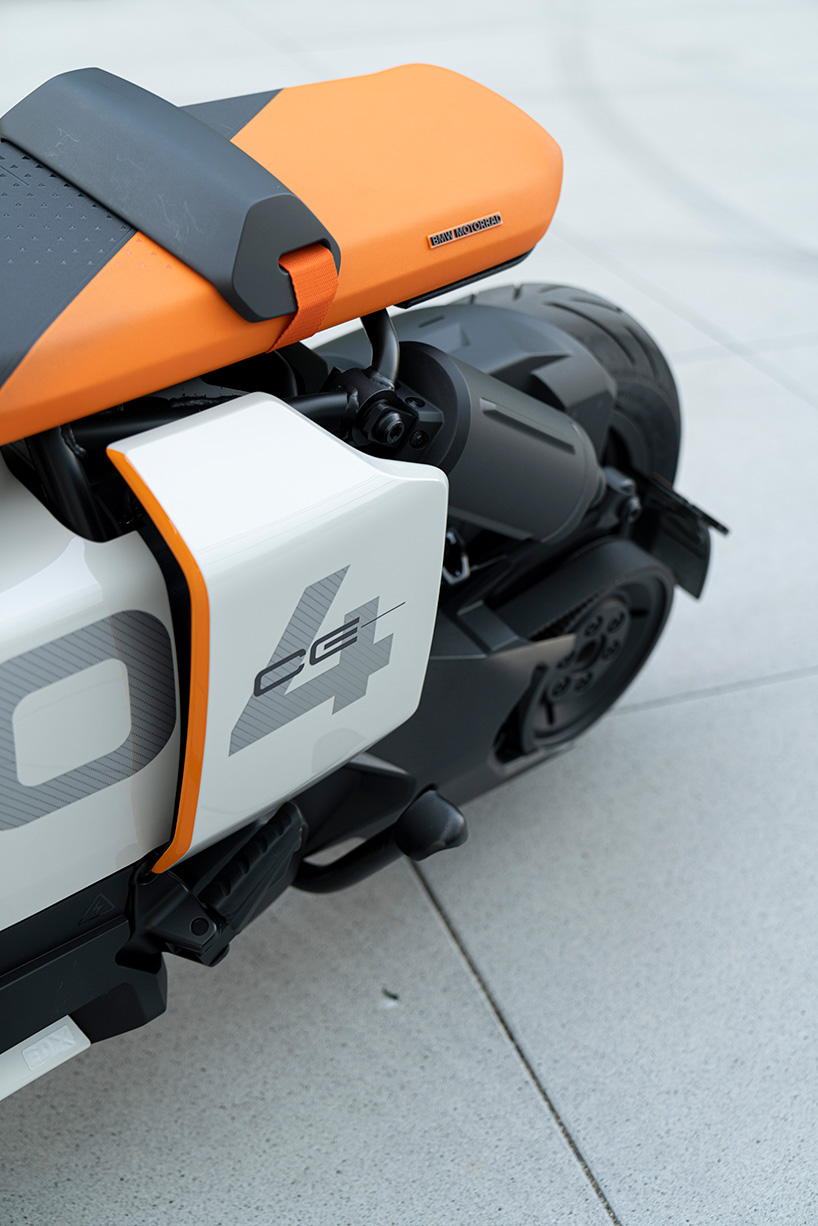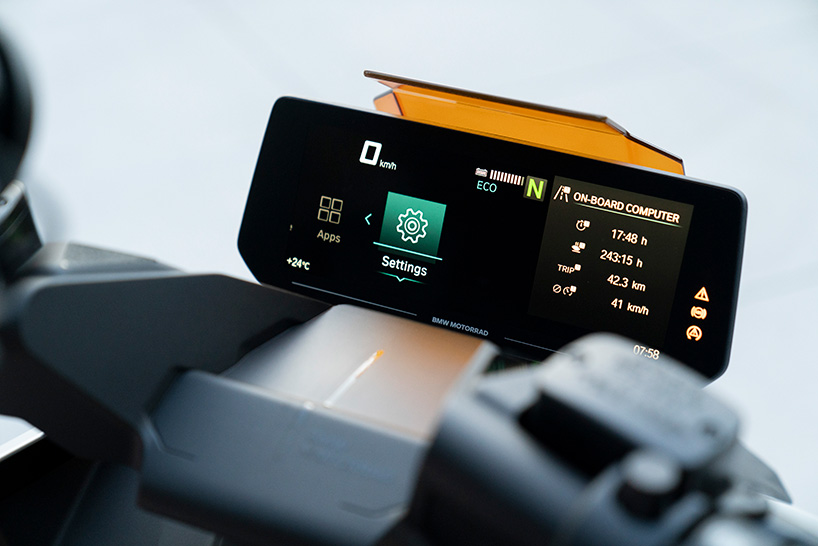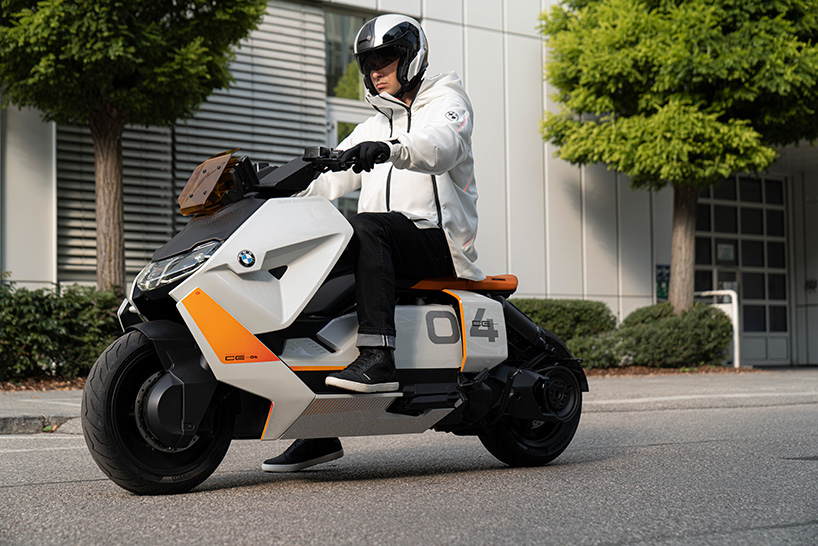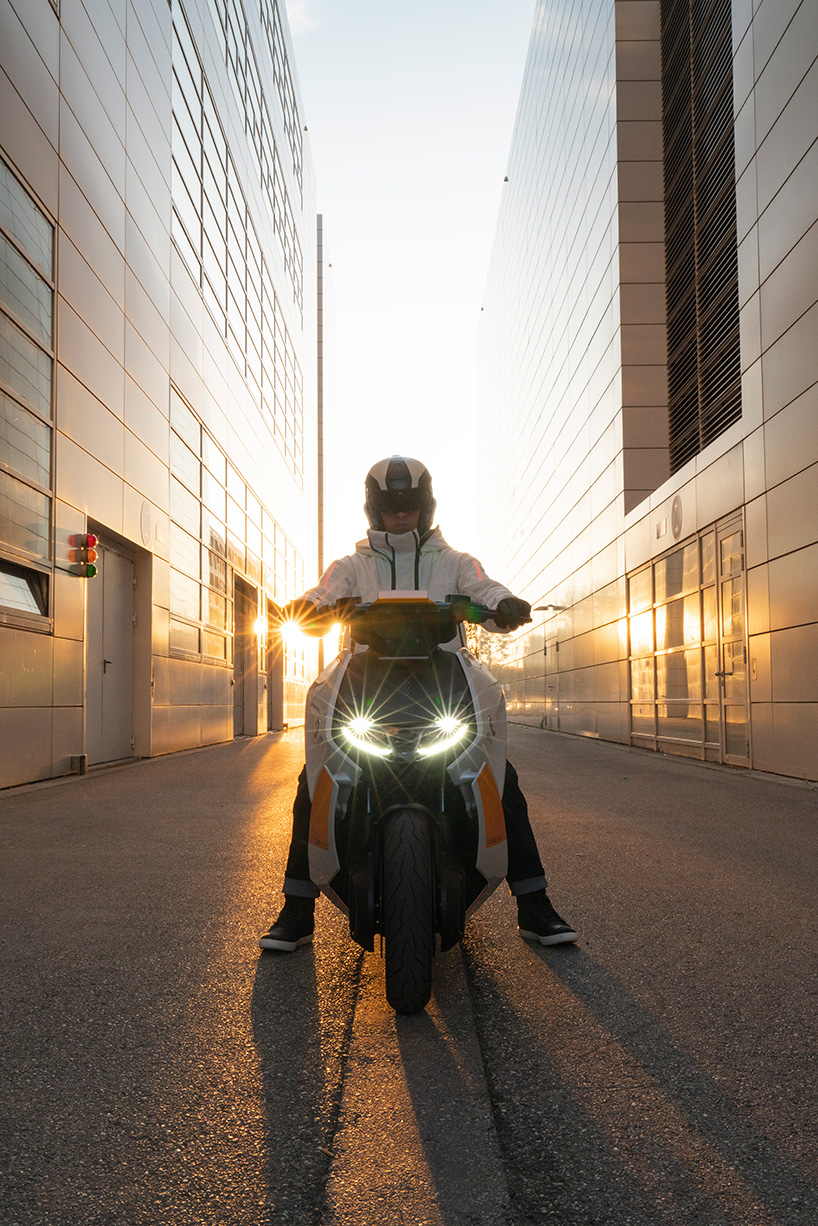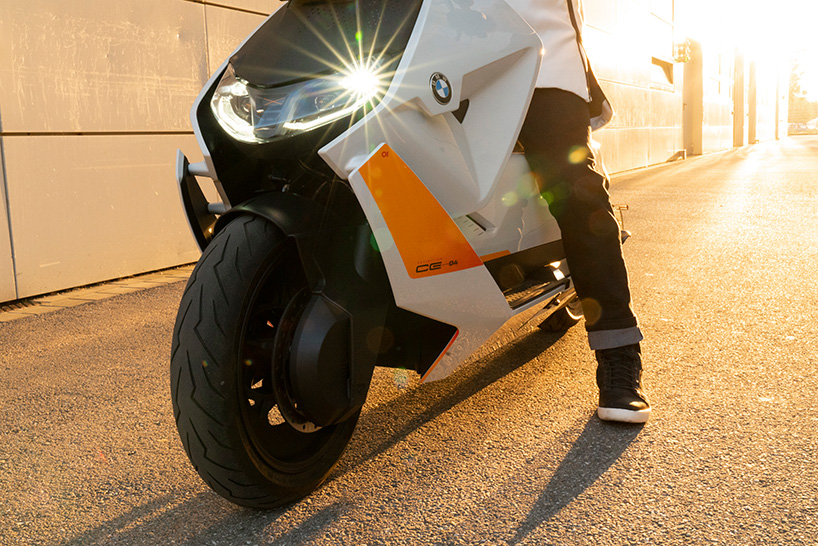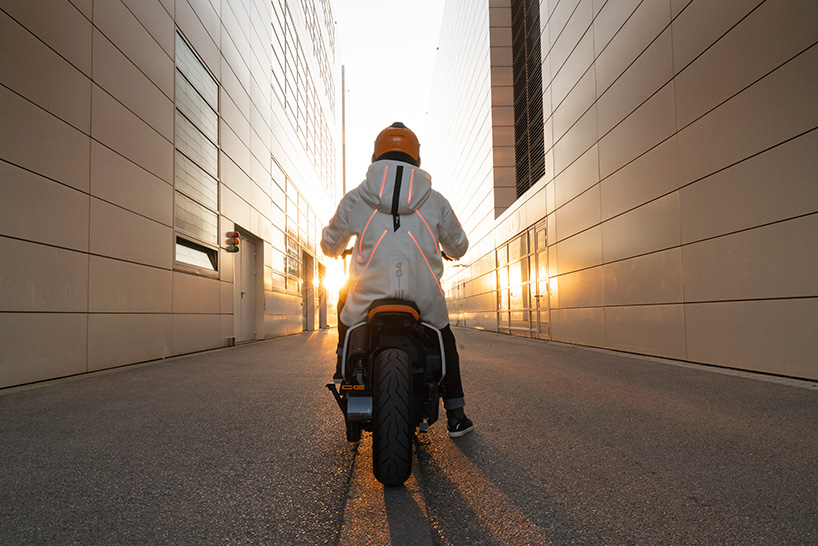 project info:
name: BMW motorrad definition CE 04
company: BMW
juliana neira I designboom
nov 17, 2020